Ed Rossley
Delaware County Fair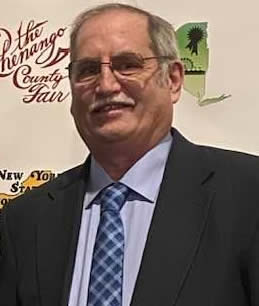 Ed Rossley, our 2022 Workhorse of the Year, has worked his way through the chairs and is the current president of NYSAAF. He was part of the executive board that had the difficult task of navigating the era of COVID, as well as planning a convention post-pandemic. As vice president, he worked diligently to plan conventions that were both meaningful and fun for both NYSAAF and NYSSA. Ed, along with other members of the NYSAAF executive board, shared a vision for a strong collaboration and relationship with NYSSA and its members.
In the summer of 2022, Ed set a goal to visit every county fair across New York State – sometimes visiting more than 5 in the same day! Ed and his wife, Gretchen, traveled across the state to visit fellow fair people and showpeople. Along the way, he enjoyed delicious fair foods, snapped lots of pictures, and shared many smiles. It was not only incredible to see the president of NYSAAF visit every single county fair, but he was also preparing and organizing his own fair back home.
We would like to congratulate Ed Rossley for all of the love and miles that he dedicated to the great fairs of New York State!
Past Workhorses Of The Year:
1977- Ray Miller
1978- Dick Janas
1979- Joe Sofo Sr.
1980- Bill Alberry Sr.
1981- Michalena (Mickey) Sofo
1982- Les (Corky) Powers
1983- Harry Salchak
1984- Sy Kolassa
1985- Carl Bliss
1986- Ann Janas
1987- Debbie Lynn Powers
1988- Ron Heinrich
1989- Art Gillette
1990- Ron Harrington
1991- Jeff Lloyd
1992- Roberta (Perky) Sofo
1993- Alice Wheelock
1994- Don Hall
1995- Alberta Hawkins
1995- Mary Pat Lloyd
1996- Joe Sofo Jr.
1997- Dick Capone
1998- Ann Hall
1999- Sharon Busch
2000- Gary Platt
2001- Sarah & Kate Lloyd

2002- Jennifer Wheelock
2003- Avery D. Wheelock
2004- Angel Wheelock-Ward
2005- Bill Pfeifer
2006- Tim Dean
2007- Chris Hudson
2008- Corey Ward
2009- Alan Wheelock
2010- Joe Zutter
2011- Roberta "Perky" Sofo
2012- Alison Ward
2013- Jeff Lloyd
2014- Sarah McAndrew
2015- Lisa Dean
2016- Cameron Ward
2017- Mary Pat Lloyd
2018- Jeremy Wakefield
2019- Gerry Elthorp
2021- Virtual County Fair Committee